Tuesday, January 5, 2010
Alright you guys, before I tell you about this product
I need to make clear I have been very fortunate to try some
great beauty products as of late and my hair has reaped some
benefits so even though it is still very damaged it is not
nearly as bad as it was this time a month ago. I also need to
be clear that it is a long way from being healthy too! Like I
have explained to you guys a few times before it is my fault
my hair got this bad. Too many times died, too many perms, too
many products and heat and chemicals. Too much everything!
If I could only start over!
The products I need now to try and heal or should I
say Hydrate the Sahara will cost me a fortune or I could just
shave my head and start over. Yuck to both of those options!
I swear I knew all the items out there that could have any type of
benefit for my straw. I have ran the usual gamut many times
with my daily Panteen and then Jim Freda, Bedhead, Nexus
and others. I even went through a period where I used shampoo
for horses. Really, it was called Mane and Tail and supposed to
be great for really dry hair but the one thing all of those items had
in common was they only offered a temporary fix and the minute
a curling iron, hair dryer or anything else hit my head, game over!
I would follow the directions to a T then condition always
using more then needed stupidly thinking if a dollop of
15 dollar conditioner would help my hair a bunch of dollops
would be the bomb! That was money down the drain, literally.
After that I would use the leave in conditioner, then the
hair serum and thought I had it licked and I was certain this time
I had silky soft hair then I would walk out into
the spectacular sunny day and BAM, poodle city! I even went
as far as to rotate my shampoos for I read somewhere when
your hair gets used to one product you need to switch to
get better results. I wish I could say I was young and naive
but this wasn't that long ago and I am far from young. So My
only solution was to collect two sets of hair care products.
One for every day where I still used all of the items above
but products that were more reasonably priced for with hair
as long as mine was and the amount of shampoo I used there
was no way I could afford Nexus on the daily basis. Then I had
my good stuff for special events. Now I would like to tell you my
special event shampoo rocked and fixed all my problems
but nawwwww, it just kept my out of control hair a
little more controlled but not nearly what I would call
healthy. Still I clung to hope there would be a shampoo
revaluation and my problems would be solved!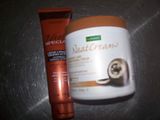 Like I told you at the start my hair has been a little
spoiled lately with a few reviews I have done but as much
as I loved the products they are out of my daily price range.
I need something that works and I can afford. Why do I always
feel like I am asking too much? Or I should say did feel that way!
I just reviewed
nuNAAT
products and WOW.
I need a minute here.......................
WOW!
I really am in shock here. Let me start of with asking you
guys if have ever heard of them before? I hadn't. I can't
believe I hadn't. The item I reviewed was called NaatCream
Intensive Care Conditioning Cream. It comes in a 17.60 oz
jar and claimed that it is for Dry Hair with Split ends and is
Hydrating. Now I can live up to my part of the bargain and have
the Dry, Damaged hair with Split Ends that needs Hydrating
so I was curious to see if they could live up to thier end of
the bargain. I was also determined not to give them any
breaks and instead of using my normal shampoo I grabbed
my sons VO5 for that is just about as good as taking a bar
of soap to my hair for the softness factor. Now the product is
a deep conditioner so it needs to sit so I washed my hair and
then applied as directed and let it sit while I finished all my
other business. Then I rinsed and held my breath. Why I
did that is for any time I use something on my hair that
is not good at all I can tell the minute I try to run a brush
through it. My hair tangles super easy and I can tell instantly
if the conditioner I used did any good at all for if it doesn't work
I am faced with the daunting task of getting all the knots out
of my hair and Ouch, owwie, Ohh, Ouch, it is not pleasant.
The brush sailed right through.
I was not ready to do a happy dance. Years of bad hair and
skepticism have made my forget the dance moves. Now
I said no breaks and I meant it so I did not use the leave in,
nor any mouse or any other product at all. I also decided to
let it air dry for when I do I loose about 3 inches from shrinkage
because of the curl in my hair. I hate that curl! I took a break and
went and hung out with the Monster who was just up from a nap.
Now I wasn't going to be so mean as to not run a brush through
my hair a few times as it dried for my hair takes about 2 hours
to dry and if I don't brush it a couple of times I get the crazy
kinks and puffs all over and I didn't see the brushing as cutting
the Naat Cream any breaks for it is more like training my
hair to stop doing that. ( 40 years of training and it still
hasn't learned though) I didn't plan on it but I got so caught
up with Rowan I plum forgot. About 3 hours later I remembered
and ran to the bathroom for I was afraid I would have to
start over.
This is where I was stunned.
My hair was smooth and though had a little wave the
curls were not there. I didn't know if I should laugh or
cry. I was so happy with the natural, no straightening
needed results but I was also afraid to touch it. I used
a hair Glaze from another place once that left my hair
looking like that but it was also so heavy and weighted
down and just plain nasty I had to run, not walk, back
to the shower and wash it out. It was gross! I was afraid
I would need my running shoes again for no way
could my hair look this smooth and soft without some
sort of oily residue.I cringed, reached up and almost
fainted. This stuff rocked. Soft, shiny hair. Smooth and
did not feel dry at all. Perfect, that was what I wanted.
I can not tell you how impressed I was for even the
other reviews I did lately I used the shampoo and
conditioner and a deep conditioner to get the same
results I just got here with just a conditioner. I started laughing
like some crazy mad man and made poor Rowan cry
for she thought her Mom lost her mind. All I needed was
one last thing to finish the review. I told you I had never
heard of
nuNAAT
before so I did not know how much it
cost. I was looking at my hair and thinking a lot. This
would be another one for my Saturday Shelf for those
rare dress up moments. I went to the computer and
pulled up Google Shopping ( I love that!) and would
you believe this ( a Deep conditioners that always cost
more then the regular) was under 6 dollars! Did
a Jig here I suddenly remembered the old dance moves and
on a whim checked the price of the Shampoo and
regular Conditioner. SAME! I can afford this! I can afford
this every day! I can have soft, silky, shiny, straight hair
every day. EVERY DAY!
My Review of
nuNAAT
, well let's just say they are my
new best friends! I am over the moon impressed doing a jig
and cuddling my wallet like a love struck teenager thinking
of all the money I can save and still look good! I am so happy
with the results I might have to go and buy some matching shoes
for the outfit I need to buy to celebrate! Then I am going to
go out to the corner Pub I have not stepped foot into in years
and toss my hair around!
nuNAAT
says you can try some of their goodness too
and sent along a
nuNAAT
Karite Special Antifrizz Therma Active
for one of my readers. To enter just go to the site and take
a look around then come back here and tell me what
product you would like to try. The contest starts today, January
5th and will run to Midnight on Febuary 9th so I can get it
to you in time for Valentines Day for you are going to want to
use it if this is even half as great as the Conditioner I used!
USA and 18 and older can enter daily and the winner
will be contacted by email and have 72 hours to
contact me with their mailing information. As always
you can earn a bonus entry by entering the contest of
the day and other ways to enter are posted below.
nuNAAT
Extra entries.
Extra entries only count after the initial entry
is completed.
1. Become a follower of my blog or
post that you are. 3 entries,
please post 3 times.
2. Enter any of my other contest. I entry
per contest, separate post for each entry.
3. Grab my button. 5 entries. Please post
5 times.
4. Blog about this contest somewhere else
and post the link here. 5 Entries Please
post five times.
Hey there, while you are here don't forget to enter
my
No Throw
and
Chuck The Yuck
contests!