Saturday, January 9, 2010
Are you guys getting tired of listening to me ramble on
about family game night? I sure hope not for it is important
and a great way to stay close and have some fun in the process.
I know I talk about it all the time but I have found some games
I just have to share with you. The Company responsible for this
next batch of
games
is called
Think Fun
and that is so what
they do for we had a blast with the games they send and I have
to take a pause for the cause right now and let you guys know
that not only was their products good they were a great company
to work with on the review.You guys know how I feel about
customer service and how it has been slipping away in today's
dog eat dog world and how I like to point out those companies
that hold on to old fashion values and offer not only a great
product but a fantastic overall experience. This is one of those
places and I will be adding them to my top ten list. Rachel, my
contact with the company was just fantastic to work with and
was really concerned that you guys enjoy the giveaway as well.
They offer the personalized experience you never see anymore
complete with a hand written letter in the package I was sent
for review. No pre-stamped letter with a scrawl at the bottom
but the real deal. When you have questions you get an almost
instant response and they are right on the ball! Tops Ten Company
for sure and I am now a devoted customer but I know you guys
are dieing to know more about the games!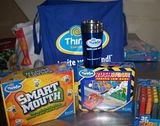 The first game we got to review was
36 cube
and it was
too cool. It is a big ol' square with lots of little squares and
I would have to describe it as a stacking puzzle game. It is a
single player game but we used it as more of a competition
to see who could do it better and faster and got a little competitive
with it. The goal of the game is goal is to place the 36 colored towers
onto the puzzle base following two simple rules: there must be
one and only one of each colored tower in each row and column,
and the towers must fit in the base to form a perfect cube shape
with all towers at the same height. It sounds easy but it isn't!
You need a strategy and foresight and patience to put your
plan into action. A rushed moved might very easily end up
being a dead end! The game is for ages 8 and up but like I
said it can get tuff and for the younger kids playing I would
have to say it is a great way for them to learn sequencing and
how to think ahead and for adults it is a true test of skill.
Andrew, who thinks he is lord of all games played for hours
for he couldn't understand why he got stuck when he got
stuck and was determined to show the game who was boss!
Let me think about the benefits of this game for Andrew, hum,
hours of peace and quiet, WHAT A
GAME
!! I loved it too and
from my Grandfather I learned that Solitaire is a great way to
pass the time and always have decks of card around the
house, well, now that I gave this a whirl I have something new
to do when I am waiting on a load of Laundry or dinner to
finish. The Packaging it comes in is perfect for keeping it
organized and I have it sitting on the kitchen table right now
for it never even made it to the game shelf for we are just
using it too much!
The next game they sent was
Smart Mouth
and the
is a true family game and cracked me up for those silly teens
who think they know everything stumble all over themselves
in a crazy attempt to beat the rest of us. Slow down Jr. sometimes
you need to think before you blurb! How this game works is
players slide the Letter Getter device forward and back to reveal
two lettered tiles. The first player to spot and shout out a word
of at least five letters, beginning with the first letter tile and
ending with the second letter tile , receives those two tiles.
Player with the most tiles at the end wins. You better bring a
dictionary to the table because you kids are going to come
up with words you have never heard before and swear to you
they are real. Decide before hand if slang counts for we had
some pretty lengthy debates on real words vrs slang and I
was told I was out of touch more then once. Now we all know
I have my fingers on the pulse of society so I won! I have
no idea what all the Booing was about for those kids are
just jealous of my superior intellect and verbal skills! Even
Puzzle boy John took a backseat to me! This game is a blast
for all and is also a good way to help your kids with their own
verbal skills and spelling for a lot of the stuff they came up
with ended with the question, Huh? Where did you come up
with that? Spell it! There is not a doubt in my mind that this
one will be drug out at just about every family game night
and hang around for years to come. Even Rowan can join us
when she has a little larger vocabulary that includes more then
baa baa daaa doo!
The last game they sent holds a special place to us. I have
told you Andrew spend most of his early years in special educating
classes for his ADHD. Well I am not sure if you are aware of this
but a lot of kids in special education have a hard time learning
the normal way and need what teachers call Tactile re-enforcements
and
Rush Hour
was one of the things they used in my sons
class. The game has been around a while and for good reason,
it is a really good game and also works fantastic for kids that
have a hard time learning sequencing and patterns in the
same old boring way as other kids. If you child is struggling
do yourself a favor and pick this up. You can also grab it
if you just want to have fun. When we opened the box and
Andrew saw this he squealed like a little kid and ran off with
it as fast as he could. I had to chase him down to see what
he took off for I needed to know what we were reviewing. He
started playing this game in second and third grade and as
you can see he has nothing but found memories of it!
It is the simplest game to play and one of the hardest to win
and there are so many variations you will never get bored.
Players set up the game board according to pictures of traffic
jams displayed on different challenge cards, then slide blocking
cars and trucks out of the way to create a path of escape
through the congestion. This game has won multiple awards
and from personal experience and years of knowing this
game I can say with absolute certainty that is a justly deserved.
Like I told you, even schools use this and kids never think of
it as a teaching device, just plain old fun. I wish I could tell you
it is on our game shelf of family favorites but it is not. It is
in Andrews room and for the life of my I can't convince him it
would be just as safe on the shelf. He is determined to never
let this game out of his sight for his last copy got lost when we
moved in here years ago and though was on a list of things
to replace like so many things it got lost in the shuffle and
now that he has it back he has made it clear it is his and the
rest of us can borrow it under his watchful eye. How is that
for a glowing recommendation? It doesn't get much better! This
boy has video game systems and computer games all over the
house but
Rush Hour
sits on the corner of his bed and I am
sure there is some sort of booby trap set to ensnare anyone who
comes within three feet of it!
Think Fun
is a great place for games and also a
great place that cares about its customers and was really
excited to share some of their items with you. They have offered
to let six of my readers walk away with one of these games.
They are giving two copies of each game away and to enter
just head over to their site and look around then come back
here and post what you learned and what game you would
pick if you won. In event of more then 2 winners picking
the same game the first two names drawn will get the game
of their choice and the other people will have the choice of
one of the other two games offered. The contest starts tonight
and will run to Midnight on February 20th.
USA and 18 and older can enter daily and the winner
will be contacted by email and have 72 hours to
contact me with their mailing information. As always
you can earn a bonus entry by entering the contest of
the day and other ways to enter are posted below.
Think Fun Games
Extra entries.
Extra entries only count after the initial entry
is completed.
1. Become a follower of my blog or
post that you are. 3 entries,
please post 3 times.
2. Enter any of my other contest. I entry
per contest, separate post for each entry.
3. Grab my button. 5 entries. Please post
5 times.
4. Blog about this contest somewhere else
and post the link here. 5 Entries Please
post five times.
Hey there, while you are here don't forget to enter
my
Chuck the Yuck
and
No Throw
Contests!