Sunday, January 24, 2010
him. I say almost for it would be blasphemy to say I
hate shopping for we all know it is what I live for, but
the truth of the matter 16 years ago it was much harder
to find items for a little boy that were adorable, functional
and affordable. You might get lucky and hit one or two
of those category's but it was very rare and hard to find
items that hit all three. The hunt for them became my
hunt for a white whale and the lack of places I could look
really took the wind out of my sails. Most of the time the
only places I could find items that were cute they were
at specialty boutiques and cost an arm and a leg. Other
then Onesies and socks I pretty much avoided places
like Kmart or Target or
Walmart
for they were stone
ages behind in fashion in comparison to Kids R Us
or the now defunct Marshal Fields. I also didn't have help
with Andrews Wardrobe for I am the only daughter of an
only daughter and my Mother and Grandmother had no
idea on what to buy a little boy. My Mother even resorted
to the old stand by of a Sailor Suit. UHG!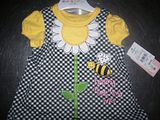 With Rowan life is so different. Not only have stores
like Kmart and
Walmart
got with the program and hired some
great fashion designers but Kohl's and
JC Penny
have even
stepped up their pace and when shopping for Rowan I feel
like a kid in a candy shop and still have more then lint left
in my wallet when I am finished with a spree. The racks upon
racks of adorable child's items can keep even a die hard like
me oohing and aweing for a life time and still only be dancing
around the tip of the Iceberg. One of my Favorite designers
of children's items of all time is
Sandra Magsamen
and
she is currently working with Walmart and JC Penny and
has some scrumptious designs for both little girls and little
boys. Whenever I go shopping and know I am going to either
of those two places I have to bring John along with me
just to mop up the puddles of drool I leave behind for just
looking through her collections is enough to leave me sporting
around a perpetual wet floor sign. Her bright colorful choices
and whimsical designs are enough to leave a Mom weak in the
knee's and she really knows the way to a Mom's heart for
everything is super functional. Take the dress I was sent
for review. It makes use out of an item we all have our
kids in and perfects it so the end result is practical and
adorable. The base for the
Summer dress
I have is a simple
Onesie but of a much better quality. It is thicker and warmer
and 100% Cotton and comes with Puffy Sleeves so it also
looks super girly and more then meets the eye. The Dress
that slips over is bright and cheery and flat out more then
anything precious and adorable. The total effect is that of
a sweet little girl in a field of bright yellow flowers on a warm
summer day. BUT, when you get to the heart of the matter it
is a Onesie underneath and therefor allows you super
quick access to a diaper change and Jr. will soon
be up and crawling or tottering away. The little boys outfit
allows just as easy access and is just as adorable and I
wish that she had her items in stores when I was dressing
my son. In fact every item I have ever ran across that is
of her design I just can't help but to squeal out loud with
delight at how cute it is! She makes items so precious they
are the kind that set off Baby fever when a Mom who has
sworn of more children sees.
Sandra
does more then just make children's items and
she is a true artist in every aspect of the word. She is artist,
art therapist, creator of many different lines and Author.
I was honored to be able to review her clothing and have
been a fan of hers for a while now. Her Messages from the
Heart line of home decor, Jewelry, stationary, scrapbooking
items, children's items and more have been wildly successful
and one look at them and you will know why. Sandra makes
it a point to have her items priced affordable and has also
penned 35 books since she started 12 years ago. What I know
is I am really happy to have her around for she has made it
easy to keep my little girl looking like a fresh faced
Princess and always sweet.
Sandra Magsamen
is also very involved in
to her designs one of the things I like best about her is
she is still a down home girl at heart and lives in the
town she grew up in to this day. So if you are dressing
a little girl or a little boy, you have a vast selection of
items at affordable prices from her collection and will never
have to search high and low like I did over 16 years ago
for her items are available everywhere and her lines
at
Walmart
and
JC Penny
are very successful and are
sure to be around for a long time to come. If I had my way
Rowan would wear her items every day of the year for they
are just that cute! Who knows maybe she will fall in love
with Rowans little smile and I will have a model on my hands
for don't they get to keep the items they wear? Either way
I am chomping at the bit to get to the stores and see what she
has in store for us this Spring and Summer for if the dress
she sent me is just a sampling of what is to come we are all
in for a treat!
Sandra
sent a Little boy item and a little girl one and
Rowan is seen sporting the dress but I have the little Boy
item available for one reader to win. It is an precious little
2 piece set in Blue for sizes 3-6 months. To enter just
head over to her site and take a look around then come
back here and post what you have learned in a comment.
The contest will start tonight and run to midnight on March 13th.
USA and 18 and older can enter daily and the winner
will be contacted by email and have 72 hours to
contact me with their mailing information. As always
you can earn a bonus entry by entering the contest of
the day and other ways to enter are posted below.
Sandra Magsamen
Extra entries.
Extra entries only count after the initial entry
is completed.
1. Become a follower of my blog or
post that you are. 3 entries,
please post 3 times.
2. Enter any of my other contest. I entry
per contest, separate post for each entry.
3. Grab my button. 5 entries. Please post
5 times.
4. Blog about this contest somewhere else
and post the link here. 5 Entries Please
post five times.
Hey there, while you are here don't forget to enter
my
Shred Sled
and
Pepper and Tanky
Contests!