Sunday, January 17, 2010
All Right guys, you know I am on a Family game night
kick and the importance of having one. I can't stress enough
how gathering around the table once every week or two and
spending the night with some Popcorn and Games is the
best way to keep your family a unit instead of a slew of
people living under the same roof who know little about each
other and most likely have more in coming with the dog.
We started when Andrew was young and have a huge collection
of games now and still add on a regular basis. We have went
from Duckies ( I already told you about the Ducks, if I keep going
someone is going to call PETA on me) and have went through
Shoots and Ladders all the way to trivia games and Now
with Andrew we do a lot of cards. Rowan is starting at the
bottom but there is not a doubt in my mind some day she
will be a little card shark like her brother and both of them
will end up with pockets full of my change. Yeah, Yeah, not
supposed to gamble, I know, but I don't have any chips and
Skittles were making us bounce off the ceiling by the end of
the night. This way they get toy money out of me without me
feeling like I am giving it away. I cling to the hope someday
I might win it back!
Right now we have been playing
Circle Out
and
unlike the Poker Andrew and I have been playing there
are no Pennies or Skittles here. It is a fast paced game
of cards where the object is to make circles and score
big. You start with 12-16 cards and it is a race to win!
Like most Sequencing games it is a perfect way to
help your kids develop skills they will need without
making them feel like they are being schooled. In the little
time
Circle Out
has been around it has already won
Awards and is already listed in the Cream de la Cream,
The Toy Directory. We just thought it was fun.
The web site lists all sorts of information to help you
along and even has instructions for other ways to play the
game. If you play the regular version or change it up a little
Circle out
is sure to be a blast and is a card game the whole
family can play. There is no Age range on the box
but since this is a game of shapes I would imagine any
child who can understand a pattern would be able to play
and it would even be great for those just learning.
Circle out
promises to be one of those great card games that stand
the test of time and we have it right next to Uno on our shelf.
Give it a whirl, it is truly a blast!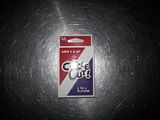 Even better
Circle out
is going to send a deck to one of
my readers. To enter just head over to their site and take a
look around then come back here and post it in a comment.
The contest will start today and run to midnight on February 23rd!
USA and 18 and older can enter daily and the winner
will be contacted by email and have 72 hours to
contact me with their mailing information. As always
you can earn a bonus entry by entering the contest of
the day and other ways to enter are posted below.
Circle Out Games
Extra entries.
Extra entries only count after the initial entry
is completed.
1. Become a follower of my blog or
post that you are. 3 entries,
please post 3 times.
2. Enter any of my other contest. I entry
per contest, separate post for each entry.
3. Grab my button. 5 entries. Please post
5 times.
4. Blog about this contest somewhere else
and post the link here. 5 Entries Please
post five times.
Hey there, while you are here don't forget to enter
my
Zehn Naturals
and Easy Lunch Box Systems contests!